Glen Aryn Farm News and Resources of Interest
News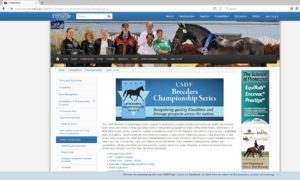 Mar 2017: Aragon and the Glen Aryn Farm Team shown on the USDF Breeders Championship Series website. Photo from Grand Champion Stallion East Coast Series Final Dressage at Devon 2015.
Oct 2015: Aragon and the Glen Aryn Farm Team won the PRE Breed Class at Dressage at Devon 2015 & received the highest score of all 3 Andalusian/Iberian classes in the Breed Division.
He went on to earn Reserve Champion Stallion in the open dressage DSHB class and was Grand Champion Stallion for the GAIG/USDFBC East Coast Series Final.
28 Aug 2015: ARAGON GAF wins TheraPlate Peak Performance Award
Aragon and Craig Roberts were awarded the TheraPlate Peak Performance Award at 2015 IALHA Nationals. They will be part of TheraPlate's National promotional campaign for 2015-2016… More >>>
29 July 2015: ARAGON GAF invited to compete at 2015 Markel/USEF Young Horse Dressage National Championships
Aragon and Felicitas Von Neumann-Cosel qualified for and were invited to compete in the Six-Year-Old division of the 2015 Markel/USEF Young Horse Dressage National Championships at Lamplight Equestrian Center in Wayne, Illinois. What a tremendous achievement!
We believe Aragon is the first US born & bred PRE to have earned this achievement.
4 Apr 2015: ARAGON GAF earns VADA/NOVA 2nd Level High Score Dressage award
Aragon and Felicitas Von Neumann-Cosel earned a very respectable 68.636% this fine spring day with wind gusts of 25 mph as their backdrop. We couldn't be more proud of the pair! What a great way to start the competition season.
22 Oct 2014: ARAGON GAF earns USPRE COPA Dressage award
7 Oct 2014: ARAGON GAF earns IALHA Premio d'Oro Lifetime Merit and Regalado II Perpetual Dressage awards
 
21 July 2014: PREs NORTE & GRANDIOSO, as well as the 4-IN-HAND driven by JOSÉ BARRANCO & JUAN ROBLES, included in the roster for 2014 WEG
This week, Spain's Royal Equestrian Federation has sent its list of participants for the World Equestrian Games team roster (not yet definitive) for the disciplines of Eventing, Dressage, Carriage Driving, Raid and Show Jumping. This list includes an important number of Purebred Spanish Horses. For Dressage, Grandioso, ridden by José Daniel Martín Dockx, owned by Hampton Green Farm and bred by Yeguada Marín García appears on the list, as well as Norte Lovera from Yeguada Lovera, ridden by José Antonio García Mena. When it comes to Carriage Driving, the list includes Altanero JEM, Furtivo XLI, Almonte, Distraído and Pudiente, all driven by their owner José Barrancos, in addition to Benavente I, Cepellón, Fermentado, Fresado, Recluta V, Tensor and Velero XI, owned by the Military Stud Farm and driven by Juan Robles. View the complete WEG 2014 Spanish roster.
GLEN ARYN FARM EARNS 2013 DRESSAGE AWARDS
ARAGON GAF earned USDF/Adequan awards for 2013, he placed 7th Nationally for Materiale and 33rd for USEF 4yo test. He earned USDF All Breeds Champion and 1st place for USPRE respectively. We are also pleased to announce Aragon won the IALHA Regalado II dressage award. Craig & I would like to thank our handlers, trainers, friends, family & well wishers. And of course, our extraordinary gentleman, Aragon. Aragon will be available to a limited book in 2014.
SECOND DAY OF THE 2013 EUROPEAN DRESSAGE CHAMPIONSHIP IN HERNING DENMARK JOSÉ DANIEL MARTÍN DOCKX & GRANDIOSO,
Qualified for the Grand Prix with scores of 72.204%. Today will see the conclusion of the second heat of the first round for the Gran Prix section of the European Dressage Championship in which there were a total of 32 horses/riders. Spain's second participant, José Daniel Martín Dockx riding Grandioso, owned by Hampton Green Farm, entered the arena just after 11 in the morning. They performed a good test that surpassed the highest score they had achieved to date in Gran Prix, with an average of 72.204%.As with Norte Lovera, Grandioso really showed his excellence during piaffe, passage and transitions. Most scores were around 8, but there were two 9s!! The objective established by Spain's Royal Equestrian Federation (RFHE) was to participate in the Special tomorrow (Friday); that objective has been reached for both riders/horses. Only the 30 best participants can participate in the Gran Prix final.
2013 EUROPEAN DRESSAGE CHAMPIONSHIP IN HERNING DENMARK (First Day)
NORTE LOVERA, 8thin the tentative GP roster with an average of 69.195%. The first day began with a test for teams, in which case, between today and tomorrow, some 65 horses from 19 countries will be competing.Yesterday afternoon was for the first group, with 32 entries in Grand Prix. Spanish rider José A. García Mena riding PRE, Norte Lovera, owned by Yeguada Lovera, qualified with merits. He took eighth place with a final average of 69.195%.Horse and rider performed very well at this top level international competition. Their piaffe, passage and transitions were most impressive; the score was 8.5.
USPRE Interviews US National Trainer Robert Dover

USPRE had a chance to discuss the PRE Horse with new US Dressage Team Trainer Robert Dover last month in the USPRE offices in Wellington. Robert, a six-time Olympian and former member of the FEI Dressage Task Force, speaks about his own history with Spanish horses, his past and current impressions of them, and their future potential in High Performance sport, including their prospects for inclusion in the US Dressage Team.
2 March 2013: Equine Herpes Virus – EHV-1 outbreak in Florida
The Florida Department of Agriculture has confirmed that a second horse associated with the Ocala Equine Herpes Virus 1 (EHV-1) has presented with neurological signs. To date, there have been a total of 7 horses linked to the Ocala outbreak (two neurological cases, and five having tested positive with no evidence of neurologic disease being seen). All positive tests have been reported as Equine Herpes Virus Type 1, the wild strain. All horses on the HITS Showgrounds, Ocala are under quarantine. Additionally, horses believed to have had increased opportunity of exposure or other risk have been traced to 11 different farms/training facilities. Quarantines have been put in place and the animals are being monitored for evidence of illness. If you are planning to travel to venues where horses congregate and mingle such as shows, races, breeding facilities etc, make certain you contact the venue prior to travel to understand what bio-security measures have been imposed. Also, do consult with your veterinarian in evaluating your horse's current vaccination and immunity status and to review or develop an individual bio-security plan. For additional information and updates…..
 
PETER MÜLLER photographic exhibition "Pure Blood Reflections" held at the Madrid Barajas Airport.
This exhibition of art depicting the PRE has been traveling around the world. See it for yourself here.
New US Dressage Awards for P.R.E Horses, the Norte and FUEGO DE CARDENAS Cups
The Foundation for the Pure Spanish Horse, Miguel Angel de Cárdenas – owner of Fuego, and the Lovera Family – owner of Norte, sponsor 2 new United States Dressage Awards for P.R.E Horses and their riders. The NORTE Cup and the FUEGO DE CARDENAS Cup are in honor of Fuego and Norte's rides at the 2010 World Equestrian Games, in Lexington Ky – USA. Click here to find out more. Enjoy…
Fuego XII wins Grand Prix Freestyle at SAUMUR CDI, May 1st 2011… Check out the ride!!!
Fuego XII is ridden by JUAN MANUEL MUÑOZ DIAZ and owned by Miguel Angel Cardenas and is one of the PRE Andalusians currently competing at the highest levels of international Dressage today.
For the first time in Spain, the Spanish city of Sevilla will host the annual meeting of the World Breeder Federation for Sport Horses (WBFSH) in October 24 – 26 2011
More than 100 breeder association representatives from International and Spanish equestrian institutions will participate with the Royal Spanish Equestrian Federation and the International Equestrian Federation (FEI). Held annually in a different country, the WBFSH meeting focuses on subjects related to the various member studbooks, breeding, and athletic competition at the international level. Most recently, this meeting has been held in France in 2008, Denmark in 2009 and the USA in 2010.The World Breeding Federation for Sport Horses (WBFSH) is the only sport horse stud book federation in the world and is the main connection between sport horse breeders and the International Equestrian Federation (FEI). This organization is made up of 65 associations from countries throughout the world, in addition to other associate members. Its main objectives are to stimulate the development of sport horse breeding internationally and cooperation among members of the various stud books, while at the same time representing the sector's common interests. Together, FEI and WBFSH have organized the World Breeding Championships for Sport Horses (WBCSH) in dressage, jumping, and eventing since 1992.Learn more about WBFSH…
Glen Aryn Farm earns 2010 Year End Awards: Aragon GAF
4th National, USEF ALL Breed Awards Andalusian Halter Horse
IALHA Arnold Houser Award, High Point Halter Horse
Nothing Toulouse
Reserve Champion, USEF ALL Breed Awards Region 7, Half Andalusian Halter Horse
4th USEF ALL Breed Awards Region 7, Half Andalusian Performance Horse
Gloriosa Delenn AT
1st Place, USDF DSHB ALL Breed Award- IALHA
4th Place, PHR DSHB Region 3
Craig Roberts: IALHA Amateur Horseman of the Year
Resources of Interest
ANCCE Revision
Gaining entry into the Spanish Stud book is a 2 step process. #1) Inscription #2) Revision. The inscription process is generally done for foals but can be done at any age provided that both parents are registered in the Spanish Studbook with "Apto" Approved breeding status.
The process involves getting an approved veterinarian to complete paperwork and draw blood from the horse being inscribed. The owner must complete the International Request for Service >>> and submit all paperwork and samples to the USPRE office.
Revision is the final step for entry into the Spanish Stud book in Spain, usually done at age 3 -by their birth date, or older. It involves a series of measurements taken by licensed ANCCE Studbook Officials to insure the horse meets breed standards. Horses are also asked to walk, trot, and canter for movement assessment. Stallions 4 yrs and older have an under saddle functionality requirement. The functionality test is optional for mares. Revision Tours usually occur twice per year in the US, Spring and Fall.
Links/Reference

| | |
| --- | --- |
| | Glen Aryn Farm is a proud supporter of ANCCE. www.ancce.es |
| | ANCCE authorized registry agent for PRE in the US. www.usprea.com |
| | International Andalusian Lusitano Horse Associaton. US Andalusian Registry. www.ialha.org |
| | Foundation for the Pure Spanish Horse (F.P.S.H.) is committed to the continuous improvement of the reed. www.prehorse.org |
| | Eastern Region Andalusian Horse Club. Supporter of Andalusian enthusiasts in the Eastern US & Canada. www.erahc.org |